Why do you need my W4, I-9, and bank information immediately?
Technically, the consumers who use Blue Skies Home Care services are your direct employers and are the ones who will hire you.  But we like to expedite the process by having you fill out all the forms, including tax, direct deposit, and training documents beforehand so you can get started quicker!  Blue Skies Home Care LLC is the fiscal intermediary for our consumers, which is just a fancy way of saying we handle all of the financial aspects, like payroll and taxes, for them!
What else do you need for me to get started?
In order to follow federal guidelines, we require two forms of identification, one of which has to be a photo ID.  Best examples are valid driver's license, state photo ID, social security card, or birth certificate.  Along with those, we ask for direct deposit verification to make sure we get your paycheck into the correct account!
What are the next steps for employment?
Once your application is received, then we run your background check.  The results of this will be disclosed to consumers who will be interviewing you when we call them to give them your contact information.  They will reach out to you directly for an interview and then let us know they want to hire you!
What if I have a criminal record?
We still encourage you to apply.  There are several records/charges that will not prevent you from working.  While we would like to give everyone a chance, there are a few backgrounds, typically those with felonies and abuse/neglect records, that the state requires what is called a Good Cause Waiver.  This consists of filling out a few additional documents and getting approval from the state to work with our clientele.  The good news is that if you need a Good Cause Waiver and are granted one, it has the potential to be good forever and you would never have to apply for one again, assuming there are no new charges on your background.
What if I have an online bank?  How can I get you direct deposit verification?
What we are looking for in bank verification is something from your bank to ensure we are getting your paycheck into the correct account.  This will need to include your name, your bank's name, your account number, and your routing number on it.  Most online banks will have this information under account settings and under direct deposit.  We have worked with Chime, Cash App, Go2Bank, and more and they all have this available. Helpful tips:
Chime : In the app: Just tap Move Money, then Set up direct deposit. On this screen, you'll see your account number and routing number, but you'll also see a Get completed form option. If you fill this out, you can email it to the Blue Skies email address you were provided.
Cash App: Tap the Money tab on your Cash App home screen. Tap Direct Deposit. Select Get Direct Deposit Form. Fill out your employer information, the amount you would like to be deposited from each paycheck, and provide your signature. Select Email Form and email it to the Blue Skies email address you were provided.
Go2Bank: You will need to take two screenshots for this verification.  Log in to your GO2bank account in the app. Take a screenshot of your menu screen showing your name and the last 4 digits of your account number. Then find "Direct deposit" under Move money. Take a screenshot of this screen.  Send both screenshots to the email address or phone number you were provided.
How often am I paid?
Our pay cycle is every two weeks, starting on a Saturday and ending two weeks later on a Friday.  Payday is the following Thursday after the pay cycle ends, and your paycheck will be directly deposited into the bank account on file.
What are some typical job tasks for this position?
Each consumer requires different tasks, but some typical things that you might see are housekeeping (cleaning the floors, kitchen, and bath), meal prep, some personal care (bathing and getting dressed), and getting groceries.  Each care plan is typically reviewed with you prior to giving your name and number to the consumer to ensure you are comfortable performing the required tasks.
What do you use to clock in and out for a shift?
We are required by the state of Missouri to use EVV (electronic visit verification), which means we only use digital records of shifts, no paper timesheets.  We prefer the attendants to use an app that is downloaded on their cell phone.  However, if downloading an app is not an option, we can use a device that is placed in the consumer's home and used in conjunction with a cell phone to clock in and clock out.  Lastly, if there is a landline in the consumer's house, we can also use that for clocking in and clocking and out.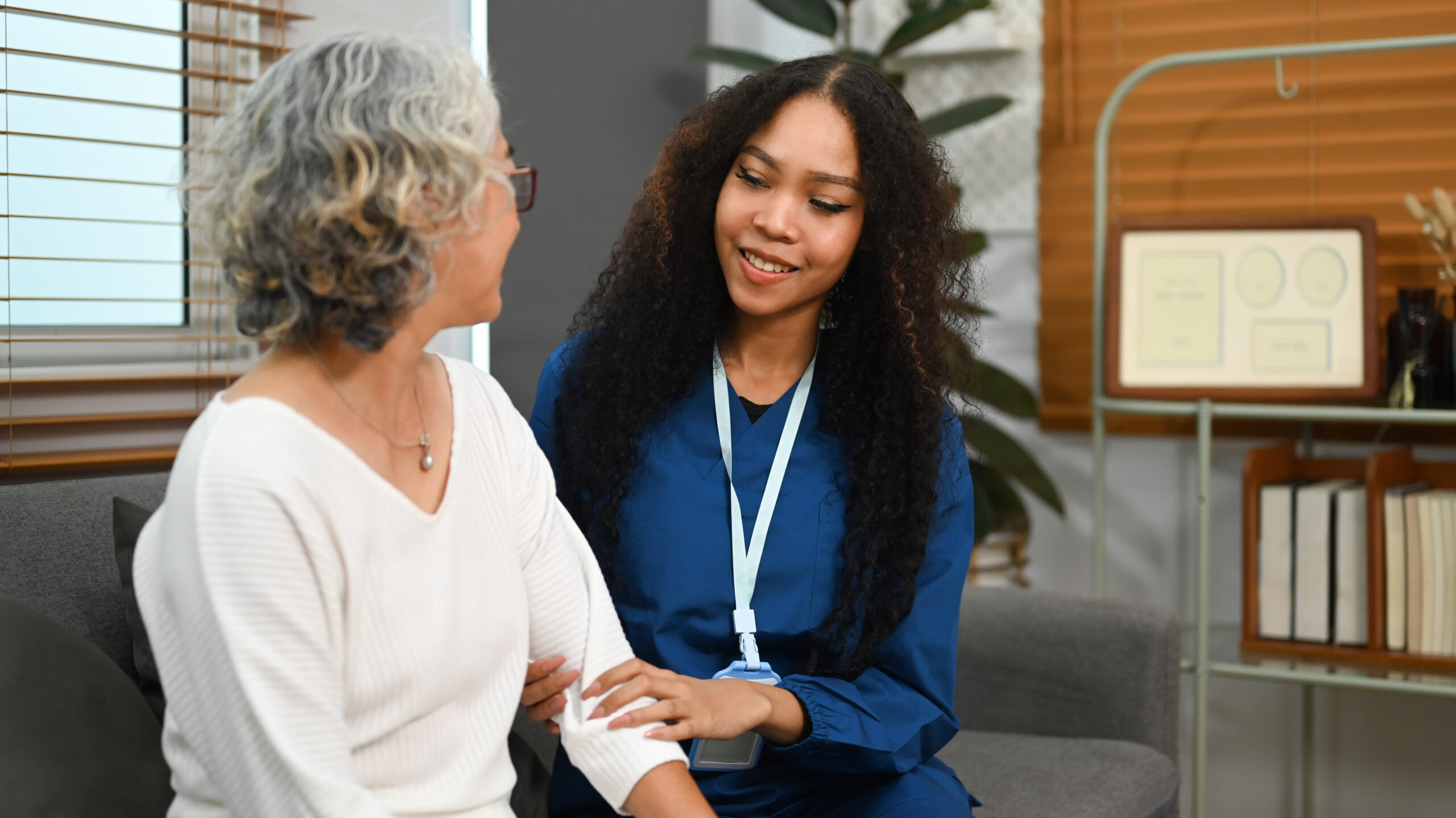 Questions or Concerns?
Have questions about our services, how to become a caregiver, or want to learn more? We are here and happy to answer all questions and concerns!
Are you looking to switch your care to Blue Skies? Switching is a simple process!